Factory price 2 channel industrial crane remote controller Grab remote control



NOTES: This model have two pushbuttons, you can choice single speed (F21-2S) or double speed (F21-2D)
Company
Advantage:
1. More than 10 years researching and exporting experience in Radio Remote Control industry.
2. More than 20 people R&D working team, have the ability to research and develop new product independently.
3. Have 15 production lines. we also have many production machines such Printing circuit board machine, SMT machine, automatic wave soldering machine, automatic soldering robot, etc. also have many testing machine.
4. Well and high quality control, all working process according to ISO9001:2008.
5. CE, FCC & ISO certificates.
6. OEM acceptable
1.Technical specifications
1.1 Basic informations:
Control distance

U

p to 100m

Control point

2

Frequency generation

Crystal

Structure

Glass-Fiber

Operation frequency

310.0325-331.165 MHz

Certificates

CE, FCC, ISO9001:2008

Unique code

O

ver 4.3billon unique ID codes .

Working temperature

-35°C___+80°C

Output capacity

Full sealed relay output with 5 amperes
1.2 Transmitter specifications
1. Dimensions:
196*65*53mm
2.
Weight: 320g
3.
Material: glass-fiber
4.
Protection degree: IP65
5. Power supply: DC 3V (2AA Batteries)
1.3 Receiver specifications
1.
Power supply: AC380V/36V/220V/110V/48V/24V or AC12V/DC12V (±20%)
2.
Dimensions:
Size:171*86*85mm
3.
Weight:
550g
4.
Material: glass-fiber
5. Protection degree: IP65
2.
Standard configuration:
One transmitter ;
One receiver;
One 1m cable connect with receiver
One operation and maintain manual .
3.Products Features:
*Two push button and one EMS button + one START button+one STOP button
*control point up to 2
*With the battery voltage alarm device to cut off the circuit when voltage is insufficient.
*with the Rotate key switch to guarantee the safety.
*set the internal functions by computer interface
*Two single speed push button + START +STOP+EMGS+SWITCH
*UP,DOWN push button can be set jump strokes,ordinary, mutual inhibition or not .
4. Products Application:
W
idely applied for lifting equipments, construction machinery, cargo loading/unloading machines, water supply system, data transmission, the iron-smelting and steel-making, the automobile manufacturing, papermaking and chemical industry, steel structure processing, galvanization, shipbuilding, railroad, bridge, tunnel construction and other equipments and sites which can be worked by radio controls.
Certifications: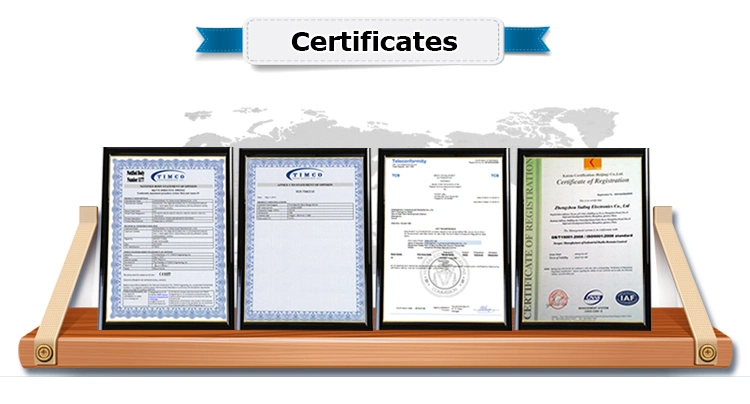 Company information: